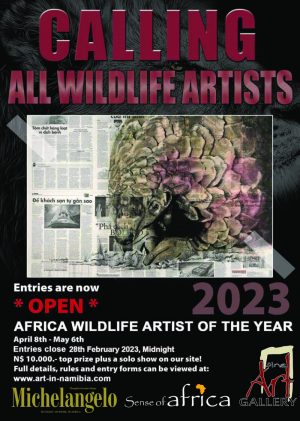 We are delighted to announce that entries are now OPEN for our
first Juried International Wildlife Exhibition to be held from
April 8th – May 6th 2023
100 Finalists, as chosen by the panel, will be exhibited at our
exhibition in Swakopmund and be included in our online
exhibition;
Artists are invited to submit an original wildlife art piece in any
medium which will be juried by a select panel.
A certain percentage of your artwork will be donated to our
supported wildlife charity. Entry fees are N$ 200,- per artwork, all
entry fees will be also donated to the Namibian wildlife. 
It is also completely free to enter a small A4 sized 100% donation
artwork for our Wall of Wildlife (WOW).
Please read these submission guidelines carefully. If you have a
question that is not answered on this page you can email us
at info@art-in-namibia.com
Each entry consists of: an online entry form and an artwork, submitted for consideration via Fine art Gallery, and an entry
donation of N$ 200.-.. Each entrant may submit multiple entries providing the entry process is followed for each
entry (including payment of the entry donation for each art piece).
You enter by filling out the online form on the Webpage
www.art-in-namibia.com, from now



, and uploading a digital copy of your piece.
You will be asked to attach a good quality image of your completed artwork to the submission form (please ensure its a JPEG file up to 5MB in size).
The first stage of selection is done electronically studying your image so please make sure it is in focus and labelled correctly with your name! Please note: This
image is used for electronic viewing only, not for printing. Therefore the resolution does not have to be large, just in focus and good colour representation.
Artists progressing to the second stage of selection will be contacted by Tuesday 1st March – we will request for the original artwork to be sent to us.
ENTRY FEE
The fee for entry is N$ 200. Refunds cannot be provided after entry. No refunds will be given for ineligible or disqualified
entries so read all terms carefully before applying. PayPal are accepted for worldwide entries.
How will I know that my entry has been successfully received?
Upon completion and submission of your entry form and associated payment, you will receive a Payment Confirmation email,
as well as a Confirmation of Entry email. If you have not received the Confirmation of Entry email after several days,
please check your junk folder and failing that please contact
info@art-in-namibia.com or call our office on +264812773214.
When/how do I find out the results of the competition?
Every artist who has taken part will be advised after judging is completed via an email as to whether or not they have been successful.
Which mediums are allowed?
Mediums can include oil, acrylic, watercolor, pencil, mixed media, bronze, plaster, wire, collage and textiles with styles
encompassing traditional, abstract, monochrome and many others – the choice is yours.
Unfortunately, graphic works, photography or digital artworks are not accepted in this competition.
If my artwork is chosen for the exhibition do I have to sell the original?
The original piece of artwork for all shortlisted artists must be available to sell during the exhibition. 
No substitute will be accepted.
Should I frame my entry if selected for exhibition?
Paintings must be fully dry and suitable for travel to multiple venues. Ideally, paintings will be framed, though this is not required.
All works must hang using wires, cleats or D-rings.
Works on paper must be framed and glazed.
What artist details will be shown in the exhibition and online gallery?
All artists are asked to submit a biography and a description of each artwork submitted at entry stage. These will be used to
describe shortlisted artworks for sale in the gallery. It is therefore advisable to provide up to date and engaging copy,
within the word count specified.
What is the commission structure on the artwork sold?
All artwork sold during the exhibition will be split between the artist & donation to the supported charity as decided by the
artist in the entry form.
When can I expect payment for artwork sold during the competition exhibition?
Upon receipt of payment from the buyer our Finance department will be alerted and will arrange transfer of your
portion of the sale proceeds to your nominated bank account.
EXHIBITION DETAILS 
VENUES:
Fine Art Gallery, 34 Sam – Nujoma Avenue, Swakopmund, Namibia
DATES:
Friday 31 March 2023 –  All selected artworks MUST BE delivered
to the venues between 10am-5pm
Sa     9 April 2023 –   Exhibition Opens to the public
Fri  6 May 2023 –  Exhibition closes
Mon 8 May 2023 – All exhibited artwork MUST BE collected latest
from the venues between 10-5pm. International artists will be contacted for shipment discussions.    
Artwork is shipped solely at the artist's risk. The organizers cannot accept any responsibility for items damaged in
shipping and handling.  We strongly recommend careful packing with particular attention to corners and any glass.
Please consider taking out insurance and tracking the shipping of Artwork. 
Who is on the panel of judges?
The judging panel is made up of artists, conservationists, gallery owners, editors and interior designers. There will be a separate
panel formed for the Visitor´s Choice Award category, with winners announced at the end of the exhibition.
What are the prizes?
Prizes are detailed in the Terms and Conditions. During the competition period additional prizes may be added.
In addition to the N$ 10,000 the winning artist will also be
featured in a solo exhibition at Fine Art Gallery that will open in
2024.
All cash prizes are fully sponsored.
General
By entering the competition, you are confirming that you have
read these Terms and Conditions and abide by the rules.
Culture with every Sip
The town of Swakopmund is celebrating its 130th anniversary this month.
As part of the festivities, there's a new art exhibit showcasing some of the town's hidden treasures.
Quaint architecture from a bygone era adds to the time-out-of-place atmosphere of Swakopmund. When approached from the interior, domes, turrets and towers on the skyline appear as a hazy desert mirage. Much of the distinct German colonial character has been preserved and today many of the town's old buildings house shops, offices and other utility services. The fact that many of these buildings are still standing is due to the quality of the craftsmen and the attention to detail typical of the period.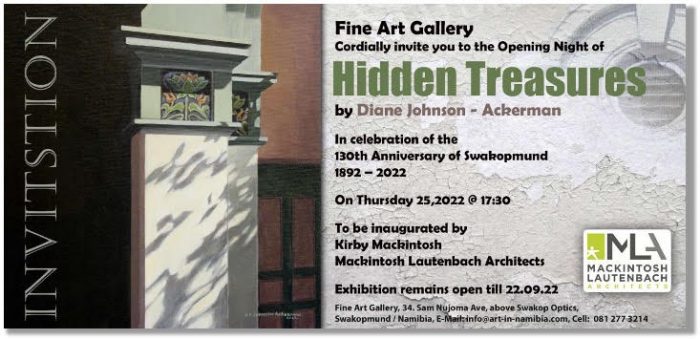 Diane Johnson-Ackerman is a skilled observer and  realizes powerful images. As we align our view point with hers we are present to her memories of sun filled Swakopmund. Diane visited our beautiful town in May 2021 and has since then researched, worked and painted the last 14 month tireless towards this anniversary exhibition of Swakopmund.
Discover the beginnings of Swakopmund, how the colonial era impacted the growth of the city with Kirby Mackintosh of Mackintosh Lautenbach Architects—making the city a reality by visiting the exhibition opening
Discover the beginnings of Swakopmund, how the colonial era impacted the growth of the city with Kirby Mackintosh of Mackintosh Lautenbach Architects—making the city a reality by visiting the exhibition opening
Walk through the gallery and discover Swakopmund´s Hidden Treasures while sipping on a glass of Dornier Premium Wine, a wine tasting hosted by Gellert Wines overlooking the roofs of Swakopmund at the opening night. Immerse yourself and be inspired…
Looking forward to welcome you at the opening night in Swakopmund!!
Anniversary Cheers from Fine Art Gallery
Martina
Fine Art Gallery will open a unique exhibition featuring South African artists Christine Lamberth and Florian Junge on view until 20 April 2022.
Touch will feature a collection of Charcoal on Paper drawings of wildlife by Christine Lamberth as well as sculptures by Florian Junge. This is the second collaboration of work by these two artists.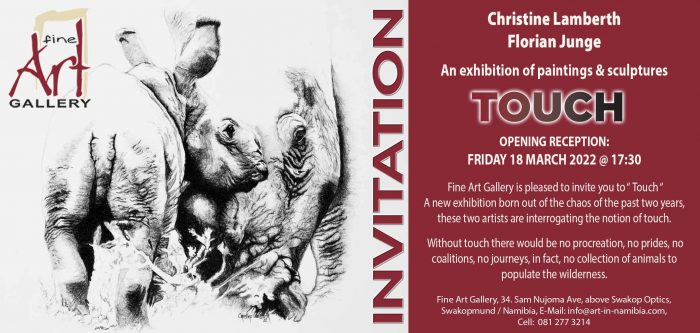 Born out of the chaos of the past two years, these two artists are interrogating the notion of touch. A now forbidden notion that hides a deadly enemy, it is yet an essential part of being human.
In the animal world they are far more resilient than we humans, and the pandemic has largely passed them by. 
They are able to continue to build the unbreakable bonds that irretrievably tie them together for life.
Without touch there would be no procreation, no prides, no coalitions, no journeys, in fact, no collection of animals to populate the wilderness. Within touch we find, tenderness, beauty, fierceness, anger, love, closeness, friendliness, danger, and also spirituality. A fundamental and elaborate form of communication, it is an essential element of being.
In this exhibition you will find examples of many of these states of being. Beautiful examples crafted out of nothing, sculptured by the hearts and minds of two artists whose obsession with their craft have magically conjured up a collection of images that touch the soul.
Join us for some finger snacks & wine @ the opening reception and have a chat with the artists!!
Warmest regards
Martina
Can you tell the difference?
Stunning hyper realistic paintings trick viewers into thinking they're photographs as new exhibition launches at Fine Art Gallery.
Hyper-realistic art is an extremely difficult skill to perfect. And hence, whenever we come across some insanely good hyper-realistic paintings, we can't help but be amazed. Those artists must be ridiculously talented and deserve all the recognition and praise.
Today, we will present to you the works of such remarkably talented artists.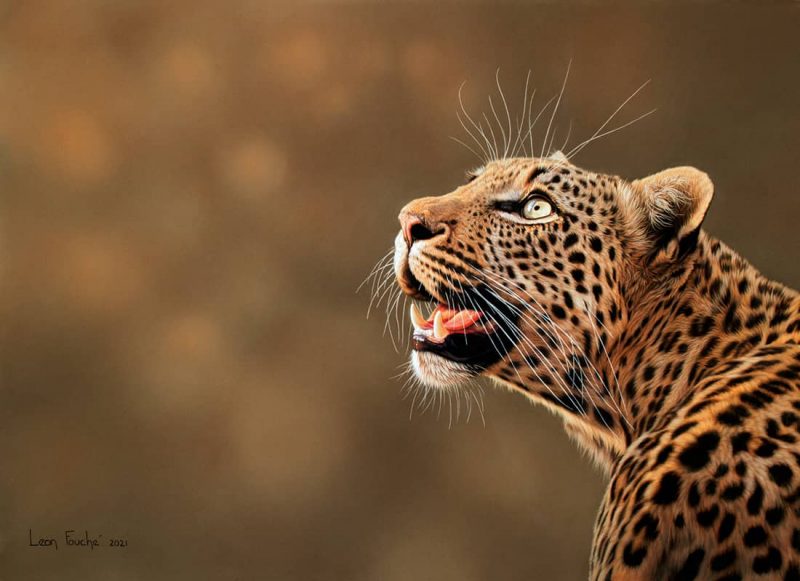 If you take a look at the works of Ingrid & Leon Fouché, you would think they are gifted wildlife photographer. However, if you decide to have a closer inspection, you'll realize that those "photographs" are actually paintings.
Both are internationally acclaimed environmental artist, dedicated to raising human awareness of the beauty and fragility of wildlife and the habitats in which we co-exist.
They only paint animals they have met in person since their life's passion is learning ever more about real nature. Fouchés artworks capture delightfully intimate encounters with often shy and elusive species. Their recognition of the spirit of the bush and its creatures leaves a lasting impression on the viewer.
Self-taught South African artists Ingrid & Leon Fouchés hyperrealist paintings immediately enchant the viewer with their sensibility and ambience. With a steady hand where every feather, petal and leaf is rendered in unbelievable accuracy detail, and an eye for brilliant compositions in an effort to re-capture a glimpse of a sultry leopard slinking by or the boundless love of a lioness for her cubs, they are masters of their genre.
Through awe-inspiring manual dexterity and prowess, the artists create a tangible solidity and physical presence. The details carry more clarity than in nature.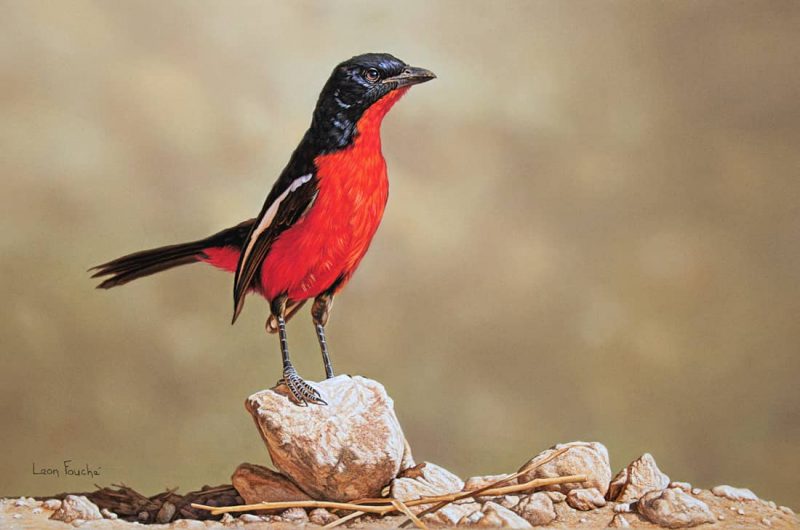 In the field of wildlife art they have a reputation for giving the viewer a real sense of being there.
Hyperrealism takes tremendous effort, incredible discipline, and skill – a lot of skill. Hyperrealism creates an atmosphere of Surrealism because nobody sees the world in such detail. These features are primarily the shadows, lighting effects, surfaces, and textures that appear to be more definite and vibrant. There is a reason why these works of art should be celebrated, as they accurately capture the essence of what is real; they evoke emotion and are a testament to the abilities of human beings.
The powerful, evocative works of both Fouchés are exhibited worldwide, winning many major art awards and hanging in private, public and corporate collections globally. They work tirelessly for conservation of our natural world.
The Fouchés generously support DeLHRA by donating one of their precious lion cub paintings to support Namibia´s precious desert lions. The drawing will take place 24th December 2021 @ 11:00. If you haven´t donated yet, here is your chance to win an original painting by Ingrid Fouché.
https://gogetfunding.com/desert-lions/
Experience wildlife art like never before through an intimate, yet powerful creation of traditional and contemporary painting.
Yours in Art
Martina
It's an animal that can survive in the harshest conditions of the driest landscapes on earth like no other.
The Oryx Antelope.
With several adaptations to heat and the lack of water, they live where you don't think anything can survive.
The oryx is found in most countries in southern Africa but embodies the spirit of the Namib desert since it made this lifeless place to its home like no other animal.  Having successfully adapted to harsh conditions where scarce water and intense heat are the norm, its no surprise that this large mammal has solidified itself as the country's national animal.  The Gemsbok or oryx, Oryx Gazella, is an iconic symbol of Namibia, appearing on the country's coat of arms.  Oryx antelopes are renowned for its courage, elegance and pride.
Oryx are considered by some to be the most handsome and striking antelope species. Striped like a race car and possessing two horns much like those of the mythical unicorn, it is the unique social structure of this species that sets it apart from others. These animals form mixed herds of both females and males, unlike other antelope which typically employ the 'harem' system of  one male controlling a group of females. Another interesting fact is that both sexes of the species have horns, although the male's horns are marginally shorter and thicker.
Oryx may have been the original unicorns. When you look at an oryx from a certain angle, it looks as though it only has one horn.
Even Aristotle himself believed this, considering the oryx as the unicorn's prototype.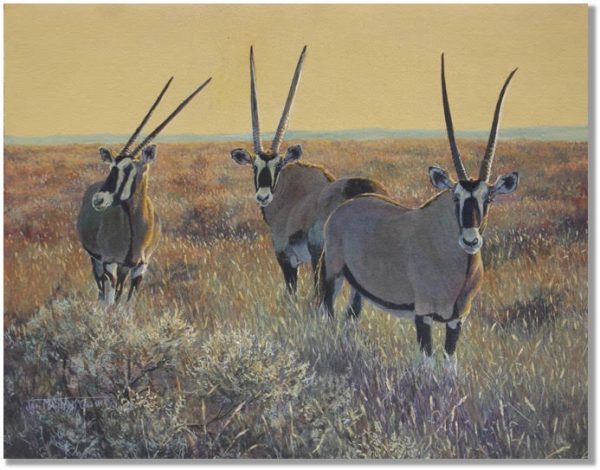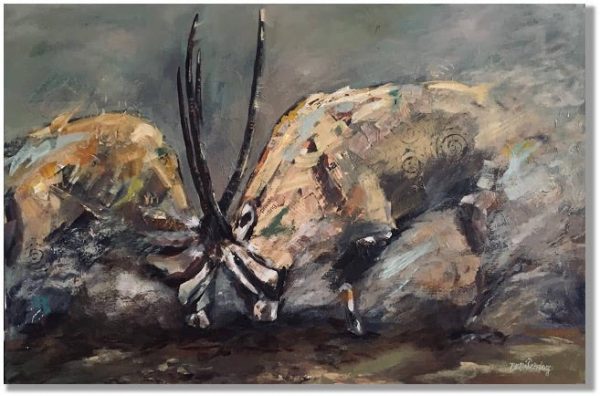 These animals know exactly where to find water even if it hasn't rained in years. There are some hidden spots they'll always return to for water or plants carrying moisture. They eat at night or early in the morning where plants have up to 42 percent of humidity in them in comparison to barely 1 percent humidity during daytime. This allows them to live off the water in the plants in case they do not have access to a water hole. These animals are perhaps also best known for their ability to wander far and wide when food and water is scarce, making them the quintessential Namibian animal.
Extreme desert temperatures are no problem to these hardy antelope, which use nasal panting to keep their brains cool while the rest of their body temperature soars. The gemsbok draws air in rapidly via its nose, cooling the air molecules down in the process.  Capillaries in the nose of the antelope then send this air-cooled blood to the brain. They waste no precious moisture by sweating. The black and white markings on their bellies and legs is thought to reflect heat, thereby keeping their bodies as cool as possible.
Another adaptation of their life in the desert and the sandy ground they usually walk on is the shape of their hooves. These hooves are broader than usual at antelopes so they won't sink when walking on sand and crossing dunes. 
They run elegantly across the vastness of desert landscapes without burning their hooves on the hot sand.
Gemsbok are minimally gregarious, usually occurring in small herds as this limits competition for food. A female leaves the herd to give birth and hides the calf for its first two or three weeks of life, visiting a few times a day to nurse it. The newborn is an inconspicuous brown color. The black markings begin to appear when the calf is ready to return to the herd with its mother.
While the oryx antelopes mainly roam the wide-open grasslands they also live in more mountainous
terrain like the Namib Naukluft mountains or make the dunes of the Namib desert or those in the Kalahari to their home.
Predators found in those areas such as lions, leopards, cheetahs, spotted hyenas, and wild dogs are a danger for the gemsbok and cause a high mortality rate among the young calves. But the oryx aren't defenseless animals. On the contrary, they are classified as the most dangerous antelopes due to their spiky horns and lone bulls are known to have killed lions before.
These horns aren't just used to defend themselves and fight off predators but have several advantages for the animals. They can use those horns to lift up fences and crawl underneath them after lifting their head. It is quite an impressive behavior adjusting to the countless fences made by mankind cutting through their territory.
These desert masters have been living in some of the toughest environments on earth for thousands of years. These animals have evolved and adapted over the years to survive this unforgiving desert, and thus form a unique part of the Namibian experience. Enjoy the safari with Fine Art Gallery focusing on the Namibian Icon – The Oryx antelope.
Yours in Art
Martina
In memory of Voortrekker
the iconic desert elephant
We would like to tell you a tale of courage, perseverance and tenacity. It is the story of the 50-year – old patriarch Voortrekker, the famous Namib Desert Elephant bull pictured above. Voortrekker means "pioneer," "the leader," or "the one who shows the way." Never has there been a name more apt than his. He was shot on 25th June 2019.
After Voortrekker was killed last year EHRA  ( Elephant – Human – Relation – Aid ) made a promise to never let another free-roaming desert elephant die due to hunting or human-wildlife conflict. But due to the outbreak of Covid-19, and resulting travel ban in Namibia, the future of the critical conservation work is grave and they can no longer keep that promise. EHRA cannot survive for another two weeks, if they don't receive support. They rely heavily on funds from international volunteers to run their conservation efforts but without their support, they have no money.
Without your help, EHRA is forced to close doors!
Award-winnng wildlife artist Christine Lamberth and Fine Art Gallery have teamed up to support the vital work of EHRA and will launch a fundraiser in aid of EHRA on 25.06.2019 – " 100 Prints for Voortrekker " – an online auction with amazing prices to be won. All proceeds will be 100 % donated to EHRA.
Please follow us on 
https://www.facebook.com/artforvoortrekker/ 
already now…
In the 1980s there were no elephants left in the northwestern stretch of Namibia's Kunene region due to over-hunting and rampant poaching. Then in 1989, Voortrekker visited the area, scouting around for a couple of weeks, patiently assessing every possible location, looking for danger, protection, hide-aways, watering holes and secret juicy food supplies.
A few weeks later Voortrekker returned, bringing his family to the Ugab River area. The small group of elephants must have been surprised at their leader's actions, but trusted him implicitly, as his instincts always had turned out right before. The family unit, consisting of only about 20 individual elephants, had moved in. The Damaraland Desert was now their home and they had to survive.
Voortrekker taught them how to dig wells with their trunks and which shrubs contained the softest, moist foods. He showed them how to store water in a poach in their throats to use a couple of hours later, when they weren't near the watering holes anymore. He led them straight to the fragrant Commiphora plants for a special treat.
The original group of 20 elephants split into three distinct family units, each favoring specific areas of the Desert for themselves. Over the years they travelled many miles, their feet developing wider than those of other elephants. They became skinnier than normal elephants, and they started nursing their babies for twice as long to adapt to the harsh conditions.
These elephants are still resident in the region and have formed the nucleus of three distinct breeding herds, making the Ugab/Huab Rivers perhaps the most viable desert elephant habitats in the world. Voortrekker continues as the Godfather, a true legend of the Ugab. His ancestral knowledge has been passed down to a new generation of desert dwellers. What a legacy
In 2008, the Namibian government decided to issue permits to hunts these elephants. Six permits were issued, one for Voortrekker. An urgent appeal was launched with the help of Desert Elephant Conservation in order to stop the hunt, but five elephants still got killed.
A group of 10 dedicated women took up Voortrekker's cause, and walked 140 kilometers (about 87 miles) through the desert in order to raise the funds needed to buy the bull elephant's permit. His hunting tag was successfully purchased from the Government for a total of $12,000 USD, as a live trophy. The other five elephants had lost their lives, but Voortrekker was now a living legend.
2019 – Prior to the hunt in the ever smoldering human – wildlife – conflict,  the management committees of the Otjimboyo, Sorris Sorris and Tsiseb conservancies asked the goverment for a meeting to discuss ways to avoid the killing of Voortrekker, one of the oldest living bull elephants in Namibia. Their letter said: "Our people are in general accepting of the elephants' presence and want them to remain in the area … it is our belief that the shooting of elephants does not solve the problem. In fact, this only makes it worse. We want to keep our communities safe and to do this we need to ensure that our elephants are calm and relaxed when entering villages. It is our belief that the shooting of elephants or scaring them off with gunshots, screaming or chasing them off results in aggressive animals and this cannot be tolerated.
Those protests fell on deaf ears, and Voortrekker was shot and killed by a hunter. It appears that the life of a magnificent elephant, worth an incalculable amount as a tourist attraction was sacrificed for a mere N$120 000, much of which will go to the professional hunter guide and in licence fees to MET ( Ministry of Environment & Tourism ), with little trickling down to the communities.
Voortrekker had a personality all of his own, and with his infinite and ancient knowledge, his wisdom has helped to bring the Namib Desert elephants to the current population numbers; if left alone, they will survive and prosper.
Elephant´s in Art
It's no wonder why elephant art is a classic choice who can resist the soulful eyes and large floppy ears of this gentle giant. From delightful illustrations to bright bold works, tie a knot in your trunk so you don't forget this emotive collection. Start thinking now about where you're going to hang your wild masterpiece!
Yours in Art
Martina