How does one take home an African sunset? Or the stare of a leopard? Or the awe that is felt when overwhelmed by the grandness of a lion encounter in the African bush?
With deft technical skill and sensitivity, Paul Dixon's exquisite paintings capture the magnificence and diversity of Namibia´s wildlife in its natural habitat. More than realist interpretations of wildlife, each meticulous brushstroke by Dixon reveals the animal's distinct character, as well as the artist's deep respect and connection to each being he portrays. –  By working on a large scale, Dixon's paintings not only reinforce the beauty and importance of the natural world, but they force the audience to contemplate our role and responsibility in protecting wildlife in all its forms.
His deep knowledge of wildlife and unwavering commitment to conservation continues to raise awareness about imperiled species. The money generated through artwork sales has been channeled back into support efforts that promote habitat protection, science-based wildlife management and sustainable tourism. A life-long commitment by wildlife warrior Paul Dixon to giving back to the animals and landscapes which grace his canvases.
Paul Dixon is known internationally for his large portrayals of iconic wildlife.  His cheetah painting " Etosha " drew global attention to Namibia as tourist destination when he was awared with the " Artist of the Year – 2020 " title by the David Shepherd Wildlife Foundation. Most recently Dixon was featured in "International Artist Magazine" Challenge # 123 'Wildlife' Issue # 139 June/July 2021 and became finalist with his painting " Watching the Watchers "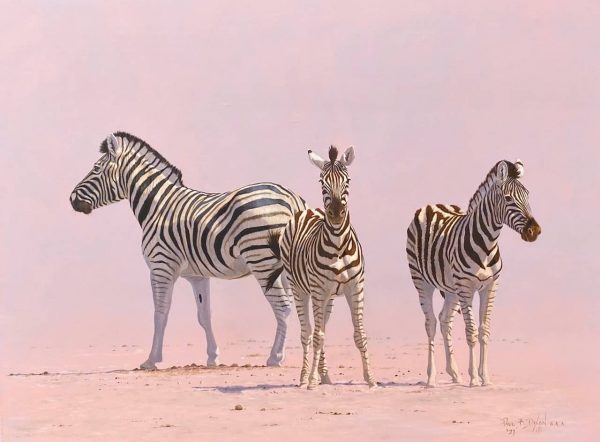 "My paintings are an attempt to portray the beautiful diversity and individuality of the animals caught up in these turbulent times. All life is truly unique and deserves our unreserved respect and support. I hope my efforts might encourage others to think likewise"
Painted in this artist's precise, realistic style, the new collection of paintings reveals the quiet beauty of Namibia's barren landscape and it´s visually delightful. But a sense of melancholy comes with the realization that some of the wildlife depicted is endangered.
These works are now available and those on the email list have the first opportunity to purchase this new work. – If you want to see more of Paul´s work please let us know or enjoy personally at the gallery.
Yours in Art
Martina
In memory of Voortrekker
the iconic desert elephant
We would like to tell you a tale of courage, perseverance and tenacity. It is the story of the 50-year – old patriarch Voortrekker, the famous Namib Desert Elephant bull pictured above. Voortrekker means "pioneer," "the leader," or "the one who shows the way." Never has there been a name more apt than his. He was shot on 25th June 2019.
After Voortrekker was killed last year EHRA  ( Elephant – Human – Relation – Aid ) made a promise to never let another free-roaming desert elephant die due to hunting or human-wildlife conflict. But due to the outbreak of Covid-19, and resulting travel ban in Namibia, the future of the critical conservation work is grave and they can no longer keep that promise. EHRA cannot survive for another two weeks, if they don't receive support. They rely heavily on funds from international volunteers to run their conservation efforts but without their support, they have no money.
Without your help, EHRA is forced to close doors!
Award-winnng wildlife artist Christine Lamberth and Fine Art Gallery have teamed up to support the vital work of EHRA and will launch a fundraiser in aid of EHRA on 25.06.2019 – " 100 Prints for Voortrekker " – an online auction with amazing prices to be won. All proceeds will be 100 % donated to EHRA.
Please follow us on 
https://www.facebook.com/artforvoortrekker/ 
already now…
In the 1980s there were no elephants left in the northwestern stretch of Namibia's Kunene region due to over-hunting and rampant poaching. Then in 1989, Voortrekker visited the area, scouting around for a couple of weeks, patiently assessing every possible location, looking for danger, protection, hide-aways, watering holes and secret juicy food supplies.
A few weeks later Voortrekker returned, bringing his family to the Ugab River area. The small group of elephants must have been surprised at their leader's actions, but trusted him implicitly, as his instincts always had turned out right before. The family unit, consisting of only about 20 individual elephants, had moved in. The Damaraland Desert was now their home and they had to survive.
Voortrekker taught them how to dig wells with their trunks and which shrubs contained the softest, moist foods. He showed them how to store water in a poach in their throats to use a couple of hours later, when they weren't near the watering holes anymore. He led them straight to the fragrant Commiphora plants for a special treat.
The original group of 20 elephants split into three distinct family units, each favoring specific areas of the Desert for themselves. Over the years they travelled many miles, their feet developing wider than those of other elephants. They became skinnier than normal elephants, and they started nursing their babies for twice as long to adapt to the harsh conditions.
These elephants are still resident in the region and have formed the nucleus of three distinct breeding herds, making the Ugab/Huab Rivers perhaps the most viable desert elephant habitats in the world. Voortrekker continues as the Godfather, a true legend of the Ugab. His ancestral knowledge has been passed down to a new generation of desert dwellers. What a legacy
In 2008, the Namibian government decided to issue permits to hunts these elephants. Six permits were issued, one for Voortrekker. An urgent appeal was launched with the help of Desert Elephant Conservation in order to stop the hunt, but five elephants still got killed.
A group of 10 dedicated women took up Voortrekker's cause, and walked 140 kilometers (about 87 miles) through the desert in order to raise the funds needed to buy the bull elephant's permit. His hunting tag was successfully purchased from the Government for a total of $12,000 USD, as a live trophy. The other five elephants had lost their lives, but Voortrekker was now a living legend.
2019 – Prior to the hunt in the ever smoldering human – wildlife – conflict,  the management committees of the Otjimboyo, Sorris Sorris and Tsiseb conservancies asked the goverment for a meeting to discuss ways to avoid the killing of Voortrekker, one of the oldest living bull elephants in Namibia. Their letter said: "Our people are in general accepting of the elephants' presence and want them to remain in the area … it is our belief that the shooting of elephants does not solve the problem. In fact, this only makes it worse. We want to keep our communities safe and to do this we need to ensure that our elephants are calm and relaxed when entering villages. It is our belief that the shooting of elephants or scaring them off with gunshots, screaming or chasing them off results in aggressive animals and this cannot be tolerated.
Those protests fell on deaf ears, and Voortrekker was shot and killed by a hunter. It appears that the life of a magnificent elephant, worth an incalculable amount as a tourist attraction was sacrificed for a mere N$120 000, much of which will go to the professional hunter guide and in licence fees to MET ( Ministry of Environment & Tourism ), with little trickling down to the communities.
Voortrekker had a personality all of his own, and with his infinite and ancient knowledge, his wisdom has helped to bring the Namib Desert elephants to the current population numbers; if left alone, they will survive and prosper.
Elephant´s in Art
It's no wonder why elephant art is a classic choice who can resist the soulful eyes and large floppy ears of this gentle giant. From delightful illustrations to bright bold works, tie a knot in your trunk so you don't forget this emotive collection. Start thinking now about where you're going to hang your wild masterpiece!
Yours in Art
Martina